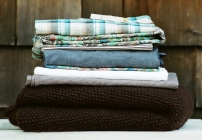 AFFINITÀ MODERNE, specializes in BEDDING for kids and HOME LINENS.

· The LIMITED EDITION line includes Baby & Toddler bedding and Home & Table Linens, all handmade in small batches.
· With the BESPOKE-full-service design, instead, we search for fabrics and yarns: each project is unique, each piece or combination is different, one-of-a-kind.
·Through a CONSULTATION service we integrate our products with other brands, precious family heirlooms or vintage items, also for adult bedding.

Our AFFINITÀ MODERNE lines, LIMITED EDITION and BESPOKE, are handmade in the heart of New York City with high quality fabric, cashmere and merino yarns imported from Europe and alpaca yarn from Peru. All come from small, family-run - some historic and world-known - mills, whose work is driven by a passion for quality, an appreciation for traditions, a pride in fine craftsmanship, a deep knowledge of the raw materials and the honest working of those materials: knowledge, expertise and intuition that have been handed down through generations. Each AFFINITÀ MODERNE piece is truly special.

Although AFFINITÀ MODERNE is based in New York City, we do commission bespoke bedding for residential interiors anywhere. We often work from a studio in Genoa, Italy and take on projects in the French/Italian Riviera and Northern Italy.
Please write to request more information.